Would you attend a talk on this topic?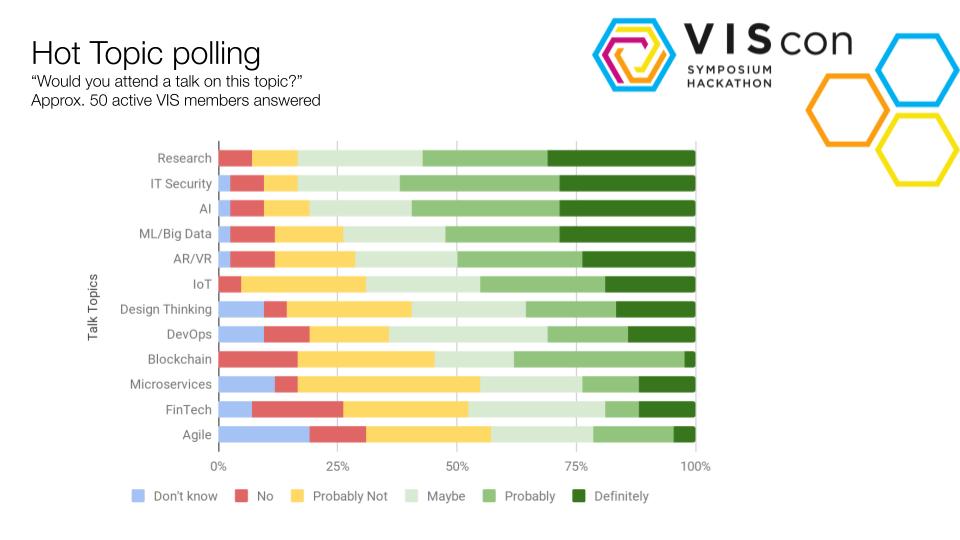 Individual answers
We also gave survey participants the opportunity to make individual propositions for interesting talks they would like to see. Their answers include the following suggestions:
"Efficient and small recurrent neural networks"
"Generative adversarial networks"
"Natural language processing"
"Cyber-physical systems"
"What does machine learning and AI really mean in the workplace?"
"Technologies to ensure improve data protection and privacy"
"Industrial automation"
"Computer science in the medical field"
"Neuroinformatics"
"Computer science in literature"
"Game design"
"Software defined radio"
"Drones"
"Open source solutions"
"What programming languages and frameworks are most relevant in the industry right now?"
"The future of computer science and the IT job market"
Would you participate in a workshop on this topic?
The most popular workshop subjects include:
AI
AR & VR
Machine Learning & Big Data
IT Security
Internet of Things
Survey participants are also interested in:
Blockchain & Crypto Currency
DevOps
Design Thinking
Virtualization
Some students are still unsure about the following subjects:
DevOps
Design Thinking
Microservices
Agile