The registration for the Symposium is now closed.
Missed the registration? Save the date for next year! VIScon 2020 will take place from the 9. to the 11. of October 2020.
Symposium Schedule (12.10.2019)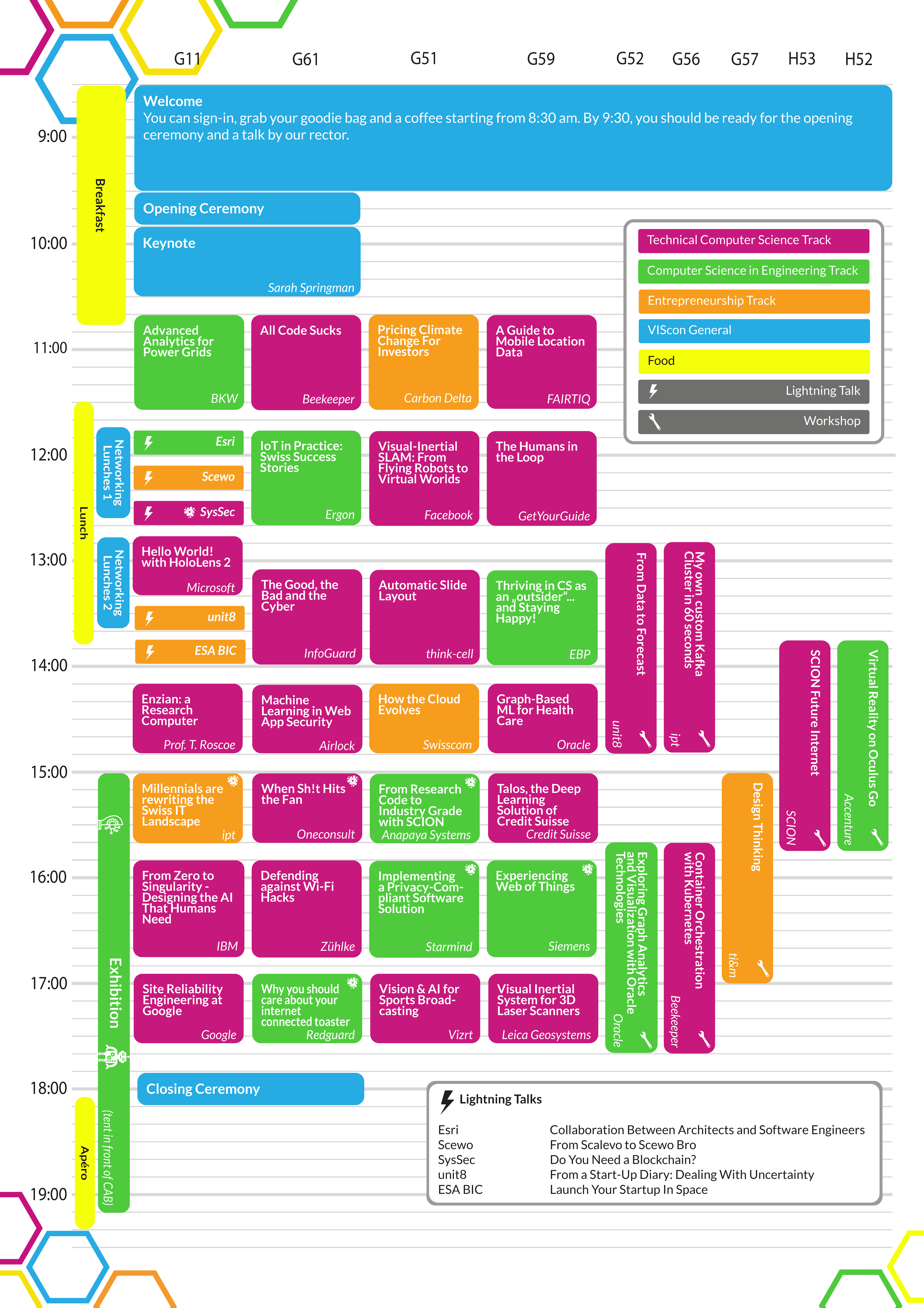 Symposium FAQ
What is a symposium?
Quotation Wikipedia: An academic conference or scientific conference (also: symposium, workshop, meeting, etc.) is a event for researchers (not necessarily academics) to present and discuss their work. Together with academic or scientific journals, conferences provide an important channel for exchange of information between researchers.
In our case: A part of VIScon where many different speakers from companies and researchers visit us to talk about their current research or work. There will be many different talks spread over the day.
When and where will it take place?
The VIScon Symposium will take place on October 12th, in the CAB building at ETH (Universitätstrasse 6, 8092 Zurich).
What does it cost?
We want to make sure that every student can afford to participate, therefore the tickets cost:
VIS & VSETH members: 10 CHF
every other (PhD)student: 15 CHF
If you sign up for two or more helper shifts, you can attend the Symposium for free. Click here to get more information on the available shifts and rewards.
Where and when can I pay?
I am an ETH student: please come to the oVIS (CAB E31) in the beginning of the fall semester 2019 to pay your fee. We will send you a reminder.
I am a student of another university: you can pay your fee at the event itself
Will there be goodies?
Of course there will be goodies! Everyone will get a goodie bag, but it wouldn't be fun if I already told you what you will find in it, would it?
What will these talks be about?
We are going to have three tracks: Technical Computer Science, Computer Science in Engineering and Entrepreneurship Track.
The Technical Computer Science track will cover up-to-date subjects. You should bring some interest in this subject and computer science.
The Computer Science in Engineering track is supposed to target people from other fields of study that are interested in Computer Science. Also, it could be interesting for Computer Science students from lower semesters that don't have such a big CS knowledge yet. (little CS knowledge required)
The Entrepreneurship track covers success and other entrepreneurial stories. (no CS knowledge required)
See the official VIScon 2019 Booklet for detailed information on the whole event or check out the Symposium Schedule.
What is the Exhibition?
The exhibition is a brand new part of VIScon. Our exhibition is a hands-on, try-out exhibition with some really cool gadgets. It will be open the whole day and you can just pop in, enjoy the atmosphere, experience some of the newest gadgets and even play with some of them.
Will there be a box office?
Yes, there will be a box office. Non-ETH students can pay their fee there and spontaneous sign-ups are possible as well.
I don't want to be photographed, is there anything I can do?
We will distribute stickers to put on your badge to indicate your dislike of pictures and we will make sure to respect your privacy. If you have further concerns, contact us at symposium[at]vis.ethz.ch.
I want to help, what can I do?
Click here to see all the available helper shifts and different rewards.
I want to hack, what can I do?
You can register here for the Hackathon.
Please note: If you sign up for the Hackathon, you don't have to sign up for the Symposium separately!
I want to join the VIScon Committee, what can I do?
We need your help to make VIScon an amazing experience. If you'd like to help, don't hesitate and contact us at viscon[at]vis.ethz.ch to join our team in the area of your choice (Operations, Symposium, Hackathon, Infrastructure or Catering).
I have more questions!
Send us an email at symposium[at]vis.ethz.ch.